Online Guide
We show you how easy it is to use liteCam with interactive tutorials and step-by-step instructions.
Check out FAQ for general and common questions and answers. FAQ.
USB Debugging Mode & USB Drivers
To enable USB debugging mode is quite easy.
Enabling USB debugging is different depending on your Android Device and OS version
Note: liteCam Android only support Android version 4.2 and above
1. Android 4.1
● Go to your Settings App
● Go to Developer Options
● Slide the Developer Options Switch to turn on Developer Options
● Place a Check Mark on the box beside USB Debugging / Android Debugging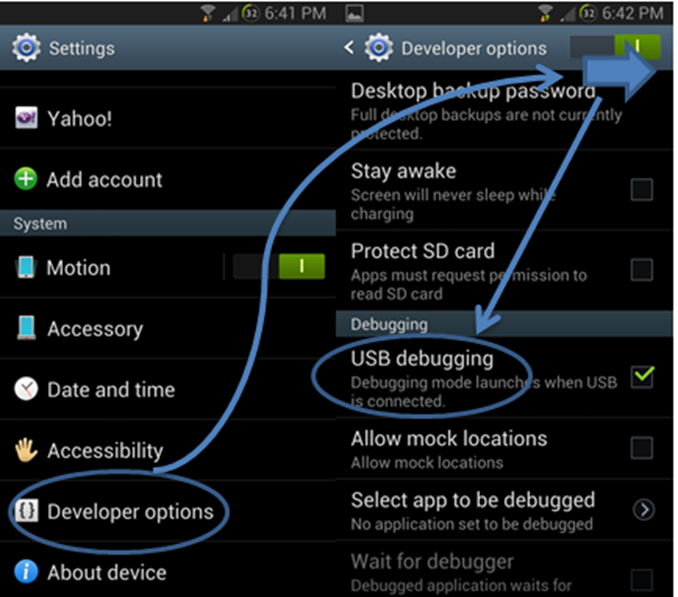 2.  Android 4.2 and Above
● Navigate to Settings
● Tab About Phone""
● Scroll to the bottom and tap "Build number" seven 5~7 times (Depending on your device). You'll get a short pop-up in the lower area of your display saying that you're now a developer
● Go back and now access the "Developer options" menu,
* check 'USB debugging' and click OK on the prompt.
3. If your Android Device USB driver is install in your PC then plug in your Android device to PC through USB cable. However, if yon don't have USB Driver installed on your PC, you will need to install it.
4. Drivers for all others devices are provided by the representative manufactures.
– Acer
– ALCATEL ONE TOUCH
– Asus
– Dell
– Foxconn
– Fujitsu
– Garmin Asus
– Google
– Hisense
– HTC
– Huawei
– Intel
– KT Tech
– Kyocera
– Lenovo
– LG
– Motorola
– MTK
– Oppo
– Pantech
– Pegatron
– Samsung
– Sharp
– SK Telesys
– Sony Mobile
– Teleepoch
– Toshiba
– Yulong Coolpad
– Xiaomi
– ZTE