Stunning Full HD Recording
Get stunning Full HD 720p and 1080p quality screen recorder. liteCam HD! liteCam HD general recording mode specializes for recording computer screen actions such as software tutorials. It captures mouse cursor movements and shows your mouse clicks with various effects. liteCam HD video recording mode is for recording any streaming or non-streaming videos with small file size. It keeps the quality of original videos. Additionally liteCam HD game recording mode is to capture any direct X and openGL games with perfect high-quality videos. liteCam HD video recording range from a minimum resolution of 320×240 up to 1920×1080. You can easily choose 640×360, 720×480, 1280×720, or 1920×1080 in Recording Area. Basically 480p, 720p, 1080p is standard of YouTube video resolution.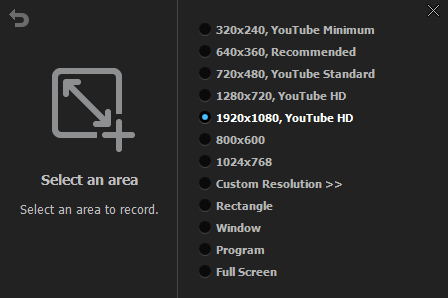 You can also choose the widely used resolution; 800×600 or 1024×768 in Recording Area. If you want to fit the recording area perfectly, you can type the video resolution specifically.
Here are additional ways of selecting the recording area.
Selecting Recording Mode Rectangle: Select a computer screen with rectangular area.
Window: Select a specific window to capture
Program: Select a specific area of program only. It is useful to capture software tutorials.
Full Screen: Select entire screen to capture.