Various Features
Quick trimming of the videos in preview mode with a simple mouse moving
Once you finish recording, you may want to trim parts of the videos to remove a mistake or get the interesting part. With liteCam HD, you don't need to use another video editing software. You can simply cut the part of the videos and save the others by just clicking.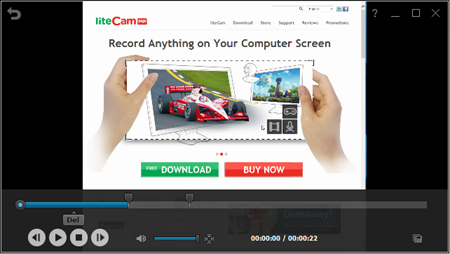 To trim your recording video, go to the "Preview" mode to see your recorded videos. Select the one you want to trim from the recorded videos list and click "Scissor" icon in the bottom right corner of the Preview window. Next, move 2 markers by dragging it. The markers select the part of the video that you want to get rid of. After that, Click 'Del' to remove it. Then you can save the video by clicking the "Save as" icon in the bottom right corner of the Preview window.
Most people make a mistake in the first part of the video or the last part. With liteCam HD's simple trimming function, you can remove either the first part of the video or the last part of it.
Mouse effects
Apart from the video recording, mouse cursor (pointer) is very important to give directions in computer screen recording such as Software tutorials or website video guides. So liteCam HD divides the 2 recording modes with a different codec; General recording for computer screen activities and Video recording for streaming or non-streaming videos. Also, liteCam HD offers the various mouse pointer effects to emphasize the mouse movements.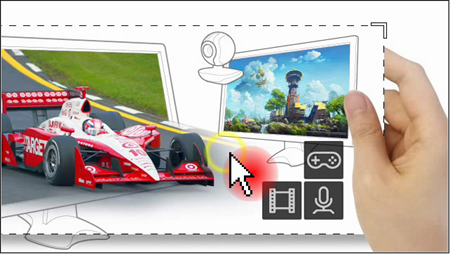 With liteCam HD's Mouse Effects, you can make mouse pointer more visible or invisible in the video. You can give different effects for right-clicking and left clicking.
With liteCam HD's Mouse Effects, you can change your mouse pointer in various ways (shape, color, and size), right click or left click for a different mouse effects. If you want to hid the mouse pointer, just uncheck the "Mouse Pointer Recording(?)" in the Mouse Effects options.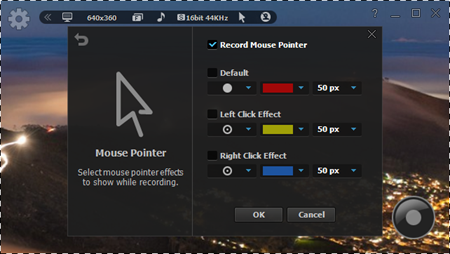 Mouse effects makes your video viewers to understand a process on next and follow it up easily. So it is essential function for educational contents or lecture creation.
Drawing
With liteCam HD's drawing function, you can directly draw on the screen during the recording. It comes up pretty nicely on the screen in real time. No need for video editing software to add texts later. Draw or type text over the screen using different colored pens or pencil, paint brush or highlighters. Capture your screen activities instantly and draw or annotate them.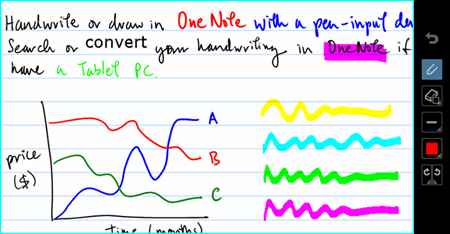 liteCam HD Drawing is available on a mouse and tablet. In case of the tablets, liteCam HD supports up to 2048 levels of pressure sensitivity.
You might enjoy using drawing quite easy and very soft as if you write on the e-board.
liteCam HD offers several type of pens or shapes.
Drawing tools: Pen, Brush, Highlighter, Line, Rectangle, and Oval
Eraser tools: Eraser, Clear Selection, and Erase all.
This drawing function is quite useful for education and learning